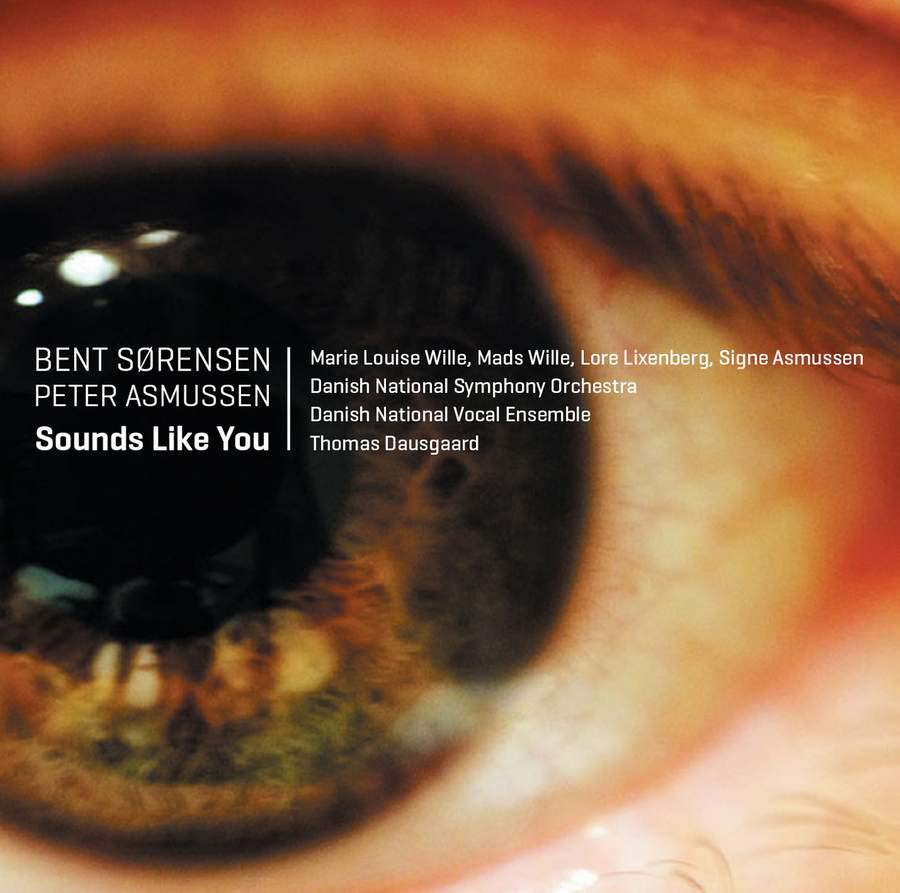 Sørensen: Sounds Like You (Live)
Performing with: Loré Lixenberg (mezzo-soprano), Signe Asmussen (mezzo-soprano); DR SymfoniOrkestret, DR VokalEnsemblet
Everything is subtly integrated and nothing is wasted, with form, flow and expressive shape all carrying us through a strange and not always comfortable world, but one in which we linger with singular delight. I sincerely commend it to your attention.
About
Bent Sørensen's work Sounds Like You, with text by playwright Peter Asmussen, is a coupling of music and theatre, of orchestral work and drama, or in the composer's own words: a theatrical play that has become an orchestral work and vice versa.
The piece was commissioned by DR (Danish Broadcasting Corporation) in collaboration with the Bergen Festival and is here recorded in a live performance by the Danish National Symphony Orchestra, two actors and a selection of singers from the Danish National Vocal Ensemble under Thomas Dausgaard.
On the CD, Sounds Like You is combined with Intermezzi, a five-movement suite for two mezzo-sopranos and orchestra, based on Sørensen's and Asmussen's opera 'Under the Sky'.
"It reminds me of something I've never heard!" – such was the spontaneous reaction of the Norwegian composer Arne Nordheim upon hearing a work by Bent Sørensen. And it is not easy to imagine a more strangely to-the-point description of the ambiguous, almost paradoxical expressive idiom of this unique composer, who is without doubt the leading Danish composer of his generation.
Sørensen's music is not recycled. In no way does it rely on the yellowing pages of history for its musical nourishment. His musical language is undeniably of the present day, both aesthetically and technically. The music does, however, appear to be pervaded with memories, wisdom of experience and old dreams, of the inevitability of transitoriness and parting. It is a flickering, glittering world where things seem to disappear at the slightest touch.
The moment something becomes tangible and recognizable, it dissolves, becomes obscured, or disappears. But this ghost-like indistinctness is nevertheless the work of an experienced illusionist: Perhaps Sørensen's most singular talent is his ability to give voice to this indistinctness, to render it distinct and clear. Often he places very simple musical material inside an ingenious musical 'hall of mirrors' in which echoes, and echoes of echoes, spread like ripples in water. The quiet, smudged contours, which sound as though heard through falling rain or misted windows, are always drawn in minute, calligraphic detail.
TRACKLISTING
Sørensen, B: Intermezzi
1. I. Det er ikke dit barn
2. II. Interlude
3. III. Elskede, elskede!
4. IV. Interlude
5. V. Jeg er født med de kolde mure omkring mig
Sørensen, B: Sounds Like You
6. I. Han sidder foran mig (Live)
7. II. Jeg går efter hende den aften efter koncerten (Live)
8. III. Hvad hører du? (Live)
9. IV. Hvorfor griber du ikke ud efter mig? (Live)
10. V. Hvorfor lukker du øjnene, når vi elsker? (Live)
11. VI. Hold om mig. Vil du ikke nok? (Live)
12. VII. Han går foran mig (Live)
13. VIII. Hun går tit ind og hører musik (Live)
LISTEN ON SPOTIFY