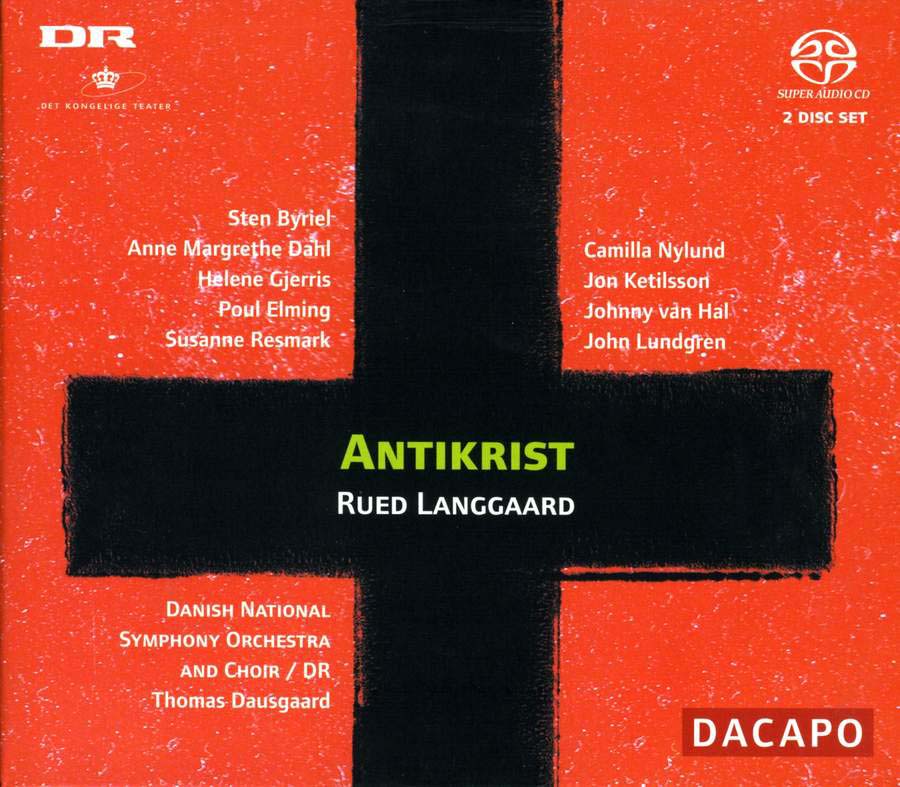 Langgaard: Antikrist
Performing with: Sten Byriel (bass), Anne Margrethe Dahl (soprano), Helene Gjerris (soprano), Poul Elming (tenor), Johnny van Hal (tenor), Jon Ketilsson (tenor), John Lundgren (baritone), Camilla Nylund (soprano) & Susanne Resmark (mezzo-soprano); Danish National Symphony Orchestra and Choirs
An amazing blend of synths, beats and melodies.
Langgaard's Antikrist is fabulous – a genuine, undiscovered, eccentric masterpiece.
About
A religious mystery opera. A magnificent doomsday vision. A full-length nightmare. This SACD production of Rued Langgaard's allegorical opera Antichrist witnesses the spectacular Danish co-production by the ROyal Danish Opera and the Danish Broadcasting Corporation from 2002. No pains are spared as the composer's revelation unfolds with its intriguing allegorical characters and its powerful statement about the moral decay of medernity.
TRACKLISTING
Langgaard, R: Antikrist
1. Prelude
2. Act I: Prelude to Scene 1
3. Act I Scene 1, "The Light of the Wilderness": Blide sommer fester (Spirit of Mystery, Echo of the Spirit of Mystery)
4. Act I: Prelude to Scene 2
5. Act I Scene 2, "Vainglory": "Fremskridt" er losen, "Vaekst" betinger livet (The Mouth Speaking Great Things)
6. Act I: Prelude to Scene 3
7. Act I Scene 3, "Despair": Liv er sorg, smerte og pine i "larmens kirke-ode" (Disponency)
8. Act II: Prelude to Scene 4
9. Act II Scene 4, "Lust": Dronning er jeg, enke ej. Sorg skal jeg ej se (The Great Whore, The Scarlet Beast, Mankind)
10. Act II: Prelude to Scene 5
11. Act II Scene 5, "Every Man's Strife with Every Man": En er blaendvaerks Gud (The Great Whore, The Lie, Hatred, Choir, Demons)
12. Act II: Prelude to Scene 6
13. Act II Scene 6, "Perdition": Dod er Gud. Alles sind i mig slog ojet op (Mystical Voice, The Voice of God)
14. Act II: Finale: Kun nar Guds Effata i sind slar ned som lyn (Choir)
LISTEN ON SPOTIFY