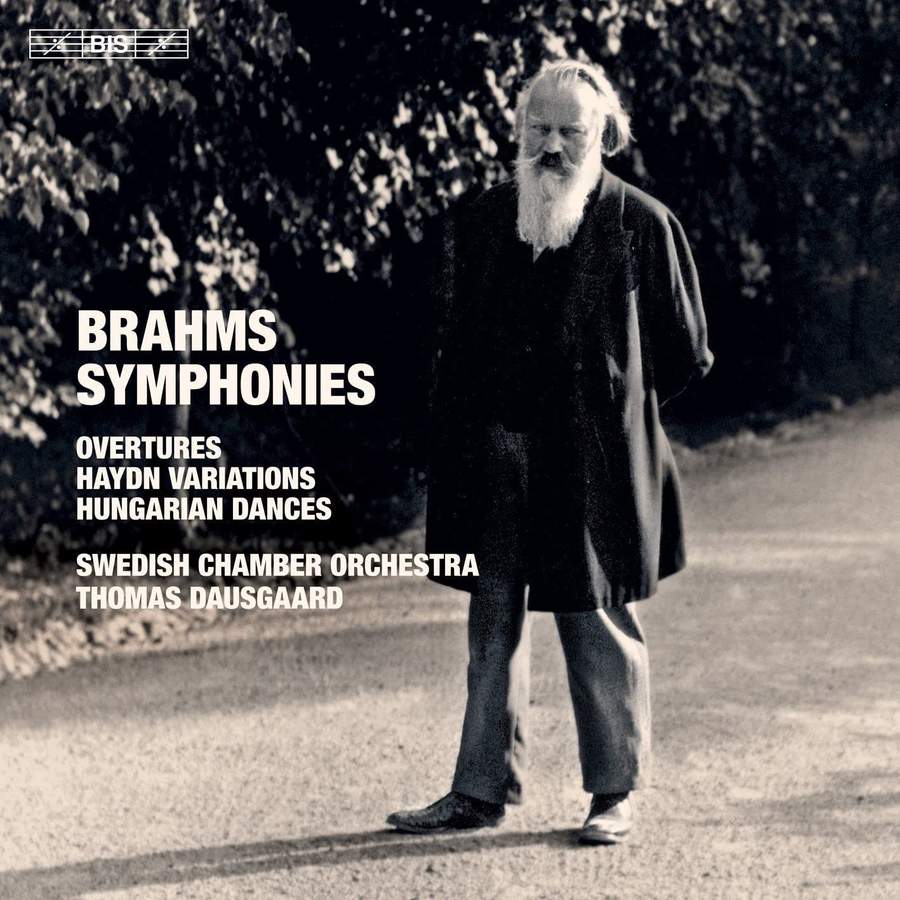 Brahms: Symphonies
Performing with: Swedish Chamber Orchestra
About
Album release: 4th February 2022
This boxed set brings together Thomas Dausgaard's and the Swedish Chamber Orchestra's cycle of Brahms' symphonies, originally released as four separate discs. Each symphony is coupled with carefully selected works to provide a well-rounded idea of the composer's orchestral output. Favourites such as the two concert overtures are included – the laughing and the weeping one, to paraphrase Brahms himself – as well as the much loved Haydn Variations (on a theme which most likely isn't by Haydn at all…).
Another perennial favourite is the Alto Rhapsody, with Anna Larsson singing the solo part, but there are also less often heard works – Brahms's orchestrations of his own Liebeslieder-Walzer as well as of six songs by Schubert. And throughout the set the composer's Hungarian Dances (including some of his most popular music) run like a thread. Brahms own orchestrations of Nos 1, 3 and 10 have pride of place on disc 1, with the remaining 18, in much praised orchestral versions by Thomas Dausgaard, are spread out over the remaining three discs. In reviews of the individual discs, critics have praised their sound, words such as 'freshness', 'transparency' and 'urgency' to describw the performances, with the critic in Fanfare expressing his pleasure at hearing 'Brahms from the edge of one's seat'.
TRACKLISTING
Brahms: Symphonies Nos. 1-4
Brahms: Liebeslieder-Walzer, Op. 52: excerpts
Brahms: Hungarian Dances, WoO 1 Nos. 1-21
Brahms: Variations on a theme by Haydn for orchestra, Op. 56a 'St Anthony Variations'
Schubert: An Schwager Kronos, D369
Schubert: Memnon, D541 (Mayrhofer)
Schubert: Geheimes, D719 (Goethe)
Schubert: Greisengesang, D778
Schubert: Jäger, ruhe von der Jagd (Ellens Gesang II), D838
Schubert: Gruppe aus dem Tartarus, second version, D583 (Schiller)
Brahms: Alto Rhapsody, Op. 53
Brahms: Academic Festival Overture, Op. 80
Brahms: Tragic Overture, Op. 81
"The symphonies sound like a theater of notes, which the conductor chisels, polishes and polishes: the slow movements, fabulous chamber music, breathe and open up in the open air while the fast movements whip in a Beethovenian whirlwind. The Swedish Chamber Orchestra is sharp and focused and compensates for a certain neutrality of timbres with exemplary musicality and collective dynamics. Thomas Dausgaard, the great coordinator of this most interesting sum, manages to influence an electricity in this instrumental game."
"The temptation of a chamber music Brahms has already teased other conductors, starting with the excellent Charles Mackerras conducting the Scottish Chamber Orchestra for a pioneering complete (Telarc). Paavo Berglund had followed in his footsteps with the Chamber Orchestra of Europe (Finlandia), before the great Harnoncourt, with this same formation, tried the experiment at the Graz festival (ICA Classics recently reissued Symphony No. 4). But Dausgaard, with his radicalism, takes the drama of the musical gesture to the extreme.
"The complements are just as interesting, and offer the 2 overtures, the Variations on a Theme by Haydn and the Hungarian Dances in orchestrations by Brahms (dances n°1, n°3 and n°10), but also by Dausgaard himself. for the others. This panorama ends with orchestrations by Brahms of 6 lieder by Schubert (with alto Anna Larsson and baritone Johan Reuter) and a superb Rhapsody for alto with Anna Larsson and the Swedish Radio Chorus. "The box includes the full booklets of the four separate releases and the sound recording is once again excellent. "Therefore, for those who want to experience a return to the text and who (like us) are allergic to thick and caloric Brahms, this sum is a golden affair to which we will not stop coming back, especially since this boxed edition reinforces logic and interpretive intelligence."